Christian Parenting Advice
Christian Parenting Advice: Instilling Conviction
As Christian parents, how can we communicate our convictions of our Christian faith to our children in such a way that these convictions are not simply secondhand information, but become their own personal property?
Isaiah 54:13 has a comforting thought: And all thy children shall be taught of the LORD; and great shall be the peace of thy children.

In the original Hebrew:
'taught' is limmud, meaning: taught, learned, discipled, accustomed to
'peace' is shalom, meaning: completeness, soundness, welfare, safety, health, prosperity, peace, quiet tranquility, contentment, friendship with man and God.
Side note: To see the Hebrew/Greek words & meanings for yourself, use Olive Tree (free) with KJV Strong's. Hovering over the English words, the Hebrew/Greek translation with meanings will show.
Over and over, certain principles, doctrines, and stories are repeated throughout the Bible. The more something is repeated, the more we know that God really means it. For example, the Gospels are four repetitions of the story of Jesus, with slight variations and differences to amplify certain points.
Repetition.
God repeats over and over, in these Bible verses, that He wants our children taught His Word (emphasis mine). 
And that thou mayest tell in the ears of thy son, and of thy son's son, ... that ye may know how that I am the LORD, Exodus 10:1
And thou shalt shew thy son in that day, saying, ... Exodus 13:8
Only take heed to thyself, and keep thy soul diligently, ... but teach them thy sons, and thy sons' sons; ... and that they may teach their children, Deuteronomy 4:9-10
And these words, which I command thee this day, shall be in thine heart: And thou shalt teach them diligently unto thy children, Deuteronomy 6:6-9
And ye shall teach them your children, speaking ... That your days may be multiplied, and the days of your children ..., Deuteronomy 11:19-31
Gather the … children, and thy stranger that is within thy gates, that they may hear, and that they may learn, and fear the LORD your God, and observe to do all the words of this law: And that their children, which have not known any thing, may hear, and learn to fear the LORD your God, Deuteronomy 31:12-13
Give ear, O my people, to my law … our fathers have told us. We will not hide them from their children, … which he commanded our fathers, that they should make them known to their children: That the generation to come might know them, even the children which should be born; who should arise and declare them to their children: That they might set their hope in God ..., Psalm 78:1-8
Train up a child in the way he should go: and when he is old, he will not depart from it, Proverbs 22:6
The living, the living, he shall praise thee, as I do this day: the father to the children shall make known thy truth, Isaiah 38:19
Tell ye your children of it, and let your children tell their children, and their children another generation, Joel 1:3
And, ye fathers, provoke not your children to wrath: but bring them up in the nurture and admonition of the Lord, Ephesians 6:4
And that from a child thou hast known the holy scriptures, which are able to make thee wise unto salvation through faith which is in Christ Jesus, 2 Timothy 3:15
It's obvious that God wants us, has commanded us as parents of children to teach them the Scriptures. God repeated it over and over and over again.
Are we following God's instructions? Are they part of the good parenting decisions that we make? Are we on the right path, or is there a better way?
God's Portrait of a Family
Through wisdom is an house [ḇayi= house, home, family] builded; and by understanding it is established, Psalm 24:3.
Except the LORD build the house [ḇayi = house, family], they labour in vain that build it: except the LORD keep the city, the watchman waketh but in vain.
It is vain for you to rise up early, to sit up late, to eat the bread of sorrows: for so he giveth his beloved sleep.
Lo, children are an heritage [naḥălâ = inheritance, heritage, possession] of the LORD: and the fruit of the womb is his reward.
As arrows are in the hand of a mighty man; so are children of the youth.
Happy is the man that hath his quiver full of them: they shall not be ashamed [bûš = ashamed, confounded, disconcerted]  but they shall speak [âḇar = speak, declare, converse, command, promise, warn, threaten] with the enemies ['owyeb = enemy, foe, adversary] in the gate.
Psalm 127 (brackets and emphasis mine)
Note: children are called a reward, not a curse, not a tragedy, not an accident. They are the expression of God's favor.
Our children are also likened to arrows. These 'arrows' speak with the enemies in the gate. Since the Hebrew for 'speak' also means to command, warn, and threaten, it sounds like our children will know how to deal with enemies. When we know how to deal with our enemies, we have peace in our own home.
We Need to Know the Word
I started by stating that we need to communicate our convictions to our children in such a way that these convictions are not merely secondhand information, but become their own personal property. To accomplish that, WE need to know and DO the Word! We have to follow the instruction of the Lord and do it God's way!
Now these are the commandments, the statutes, and the judgments, which the LORD your God commanded to teach [lâma = to learn, teach, exercise in, to be taught, to be trained] you, ... that thy days may be prolonged.
Hear therefore, O Israel, and observe to do it; ... The LORD our God is one LORD: And thou shalt love the LORD thy God with all thine heart [lêḇâḇ = inner man, mind, heart, thinking, reflection, inclination, resolution, appetites, emotions, passions, moral character], and with all thy soul, and with all thy might. And these words, which I command thee this day, shall be in thine heart: And thou shalt teach them diligently [šânan = to sharpen, to whet as in sharpening a knife and honing an edge, to teach, to be pierced] unto thy children, and shalt talk of them..., Deuteronomy 6:1-9 (brackets and emphasis mine).
The Hebrew words used for teach reveals an interesting difference: 
lâma = to learn, teach, exercise in, to be taught, to be trained
šânan = to sharpen, to whet as in sharpening a knife and honing an edge, to teach, to be pierced
When it comes to us teaching our children, we need to do something to the Word to get it into our kids. We aren't just to repeat what we've been taught.
We don't just pass on the 'sword', but we actually sharpen the 'sword'! (the sword of the Spirit, which is the word of God, Ephesians 6:17)
We do something with the Word, so it will 'pierce' the children, to affect a change in them. And, we trust the Holy Spirit to lead us in this
We Need to DO the Word
Joshua 1:8 tells us to meditate in the Bible day and night so that we will DO ALL that is written in it, and thereby become prosperous and successful. 

Once we know the Word not only by meditating it but also by doing it, we are ready to use it, to speak it, to teach it from our own hearts … to our children.
In doing so, we are whetting our arrows … our children.
Whetting also means to stimulate. We stimulate an appetite for the Word of God as our children see us live the life that God blesses with prosperity and success.
That's why we, as parents, need to constantly 'show' our children that the word of God is alive and active, Hebrews 4:12 NIV.
The Christian home is not merely the home where Christians live, but where Christ lives, in and through us.

Faith, Belief, and Trust are Active
Faith, belief, and trust are never passive. Trust in the LORD, and do good, Psalm 37:3. Our behavior either belies our beliefs (do as I say and not as I do) or it underscores the reality of our beliefs. 
The Bible is full of examples. 
God said, and Noah built!
God said, and Abraham moved!
God said, and Moses led!
Unbelief was storming around Noah, Abraham, and Moses. People ridiculed them. Sin was rampant. But their behavior underscored the reality that – they knew their God. They acted out their faith. They put action to their trust.
The process of raising godly children is actually an exercise of faith, belief, and trust. We commit our children to God because we know that He will keep and guard them. 
He is able to guard and keep that which has been entrusted to me and which I have committed [to Him], 2 Timothy 1:12 AMPC.

We will make mistakes and miss it at times, but we can depend upon God to help. We do our part, teaching, whetting, and training our children in the nurture and admonition of the Lord, and then we can trust the result to Him. 
Train up a child in the way he should go: and when he is old, he will not depart from it, Proverbs 22:6.
Children are Impressionable
God made children to be impressionable because they are supposed to imitate us as we imitate Christ. That's how they learn. That's how they grow. 
Paul states that we, as adults, shouldn't be as children: That we henceforth be no more children, tossed to and fro, and carried about with every wind of doctrine, by the sleight of men, and cunning craftiness, whereby they lie in wait to deceive, Ephesians 4:14.

Here the inference is that as children have contact with others, they get easily 'tossed to and fro'. Here, the importance of us constantly repeating (in word and in deed) what the Word says is so that they will recognize the deceptions.
That's why God, over and over again, repeats the instructions and commands to teach our children. They need to hear it, over and over. They need to see it in action, over and over.

With whom our children are in contact with will affect them. Ideas, teachings, and biases will be attracted to them like osmosis. They believe what they hear, especially if it seems to make sense, or it is said by someone that they respect or are told to respect like another adult, such as a teacher or relative. 
What we do, and who we provide them access to, will influence and teach them.  They depend on and trust our direction because by God's design, that's the order of authority that He gave.  
Christian Parenting Advice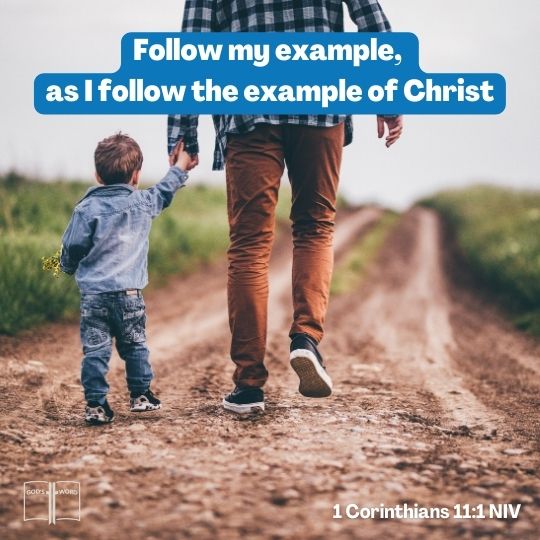 The best parenting advice? Paul states the following to believers: Follow my example, as I follow the example of Christ, 1 Corinthians 11:1 NIV. Can we say that with conviction to our children?
Let's Check Our Walk First
Let's take an inventory of our life:
Do I put God first in my life? (Or are TV, sports, family, etc., the most important things?)
Do I really love God? (Is it obvious?)
Do I really do what God's Word says?
Does my Christian walk, my everyday life, reflect tradition or desire? (Do I pray or read the Bible because I feel I have to or because I want to?)
Do I go to church because of tradition or desire? (Does my desire make me bring my Bible, want to take notes, and later meditate on what was taught?)
Do I become involved in ministry because I feel I have to, or because I have a desire to share God's Word?
Do I give grudgingly or cheerfully?
Do I discipline in anger or in love? 
Is the fruit of the Spirit evident in my life? (Galatians 5:22-23)
What do the words of my mouth show that is in my heart? (Matthew 12:34-35)
Am I changing from glory to glory by seeing spiritual growth in my life, or backsliding? 
Am I a light under a bushel or on a lampstand (Matthew 5:15)? Always?
Do I actually have a personal relationship with God?
And Jesus answered him, The first of all the commandments is, Hear, O Israel; The Lord our God is one Lord: And thou shalt love the Lord thy God with all thy heart, and with all thy soul, and with all thy mind, and with all thy strength: this is the first commandment. And the second is like, namely this, Thou shalt love thy neighbour as thyself. There is none other commandment greater than these,
Mark 12:29-31
In the original Hebrew:
'heart' is kardia meaning the center and seat of our spiritual life, the soul or mind, thoughts, passions, desires, appetites, affections, purposes, endeavors, of the understanding, intelligence, will, and character. 
That means that EVERY part of our lives need to reflect God's love!
Whosoever believeth that Jesus is the Christ is born of God: and every one that loveth him that begat loveth him also that is begotten of him. By this we know that we love the children of God, when we love God, and keep his commandments. For this is the love of God, that we keep his commandments: and his commandments are not grievous,
1 John 5:1-5
This is the first and MOST important point to remember and do in raising our children. We are to love God with all our being. And it is a love that is portrayed in action. 
We cannot teach or pass on something which we ourselves do not know. We are to love God with our whole being and then pass this on to our children.
Our first desire is to raise them to love God. They need to realize their need to be 'born again'. They need to accept Jesus as their own personal Savior. This is our foremost calling as parents.
Our concern for our children should be that they are nurtured, daily, in the Word. They have to see it in action in our daily life, hear it in words, and then practice it themselves.
Parents are Like Gardeners
A Biblical parenting style means we take care of our children as a gardener does his plants.
He raises them first in a greenhouse to provide all their requirements; they grow straight and strong. 
When they are ready, they are exposed to the outside world, a little at a time, until they are strong enough to withstand the pressures. 
These are plants that will survive.
Those sown outside, in a hostile environment and raised outside, have no guarantee of success. Some make it. Most don't.

Our children are not lights in the world until they are strong enough to withstand the pressures. If they are our soldiers, then we are poor captains. In war, only trained soldiers are sent forth to battle, not children. So don't look on your children as lights in a heathen world. 
Our children are arrows that need to be whetted (Ps 127:4). We need to be certain they are 'finished' arrows: straight, sharp, and sure of their mark. We want to avoid shooting into the secular world partially finished arrows that are not fully sharpened and still a little weak. Such 'arrows' will often miss their mark, make no impact, or break.
Our children are tender plants that need to first be raised strong. When they grow up, then they are soldiers. Right now, WE are the soldiers, protecting them.
Shelter your children from all the evils in the world.
Raise them strong in the Lord.
Teach them who they are in Christ.
Teach them how to pray.
Teach them how to resist the devil.
Teach them that they can do all things through Christ, who strengthens them.
Raise them in a house built on the rock, Christ Jesus. The storms will come, and they will see how the house stands. 
Four Practical Tips To Stress
See good: I will set no base or wicked thing before my eyes, Psalm 101:3 AMPC
Hear good: My sheep hear my voice, and I know them, and they follow me, John 10:27
Think good: Finally, brethren, whatsoever things are true, whatsoever things are honest, whatsoever things are just, whatsoever things are pure, whatsoever things are lovely, whatsoever things are of good report; if there be any virtue, and if there be any praise, think on these things, Philippians 4:8
Do good: And whatsoever ye do, do it heartily, as to the Lord, and not unto men, Colossians 3:23
The Christian parenting tips above are to take precedence in our lives as we live them out in front of our children.
They are our responsibility, given to us by God. We have been given the authority to raise them. There are no excuses we can give to God. Over and over again, we are told that our children are to be taught of God. One hour at Sunday School doesn't do this. 
---
---
Go ye therefore, and teach all nations, baptizing them in the name of the Father, and of the Son, and of the Holy Ghost: Teaching them to observe all things whatsoever I have commanded you: and, lo, I am with you alway, even unto the end of the world. Amen.
Matthew 28:19-20
Unless stated otherwise, all Bible passages quoted in blue are from the KJV translation.