Help My Unbelief – Overcoming Limited Faith
➤ by Pastor Andy Fulson

Unbelief: The Enemy of Faith

A lack of 'inner heart conviction or knowing' allows a deceiving spirit to intimidate a born again believer, similar to the way Adam and Eve fell to Satan's temptation, with 'has God said', Gen 3:1. Any uncertainty in the knowledge of Scripture can result in intimidation which then hinders receiving from God what He has promised, and appears as a lack of faith.
The Lord Jesus, our primary example, emphasized that point when He was tempted, always responding with "it is written", Matthew 4:4;6;7;10.
He further emphasized that essential necessity in His instruction on prayer: When ye pray, believe that ye receive them, and ye shall have them, Mark 11:24.
Consequently, be sober, be vigilant; because your adversary the devil, as a roaring lion, walketh about, seeking whom he may devour: Whom resist steadfast in the faith, 1 Peter 5:8-9.
Preparing To Overcome Unbelief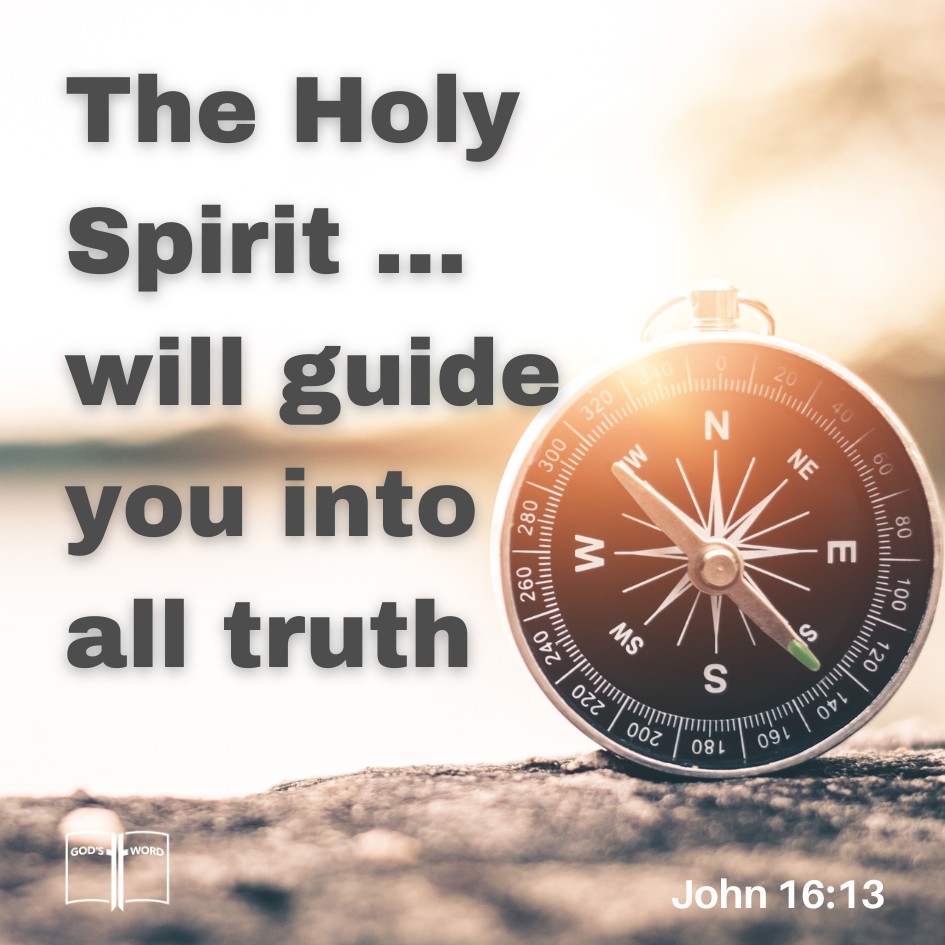 The new birth (Jn 3:3) by the confession of Romans 10:9-10 brings the Holy Spirit who will lead the believer into all truth: Howbeit when he, the Spirit of truth, is come, he will guide you into all truth, John 16:13.
The fullness of the same Spirit that was in Christ Jesus now indwells the believer: We having the same spirit of faith, according as it is written, 2 Corinthians 4:13.
However, the soul, the seat of thinking and knowing has not been renewed, and now requires us to renew it (Rom 12:2). It is that limitation of not knowing that is the source of unbelief, And ye have not his word abiding in you, John 5:38.
Releasing overcoming faith through the renewing of the mind is an action, believing what is written.
This is not mental assent, but an inner conviction of the heart: For of the abundance of the heart his mouth speaketh, Luke 6:45.
What God Says about Unbelief 
It is important to recognize from this instruction that we have a choice, either to oppose Satan's intimidation efforts or be devoured, led astray, by him. The finished work of Jesus, since His ascension to the right-hand side of His Father, has enabled the Church, the assembly of believers, to resist Satan's efforts, as Jesus did.
How?
After His resurrection from the dead, Jesus revealed Himself to His disciples (Jn 20:19) and breathed on them to receive the Holy Spirit: and saith unto them, Receive ye the Holy Ghost, John 20:22. He further commanded them to stay in Jerusalem saying: But ye shall receive power, after that the Holy Ghost is come upon you, Acts 1:8.
Recall that in Satan's temptations, Jesus' response was steadfast in His Father's word, saying: It is written, Man shall not live by bread alone, but by every word that proceedeth out of the mouth of God, Matthew 4,4.
In spite of this, Satan tried to entrap Jesus twice more. Only because he was unsuccessful did Satan stop: And when the devil had ended all the temptation, he departed from him for a season, Luke 4:13. Notice that Satan departed 'for a season' meaning 'another opportunity', our ongoing challenges.
Satan does not give up but continually lurks for victims: Be sober, be vigilant; because your adversary the devil, as a roaring lion, walketh about, seeking whom he may devour: Whom resist stedfast in the faith, 1 Peter 5:8-9.
Jesus' effectiveness to resist the temptation came as a result after being empowered with the Holy Ghost, from above, being baptized by John the Baptist: And Jesus being full of the Holy Ghost returned from Jordan, Luke 4:1.
Having effectively withstood all of Satan's temptations: Jesus returned in the power of the Spirit into Galilee: and there went out a fame of him through all the region round about, Luke 4:14.
Prepare To Overcome Unbelief
The Holy Ghost outpouring and empowerment (Acts 1:8) began at Pentecost with the assembled 120 in Jerusalem and continues as the essential endowment for all born-again believers since then to fulfill Jesus' prophecy: Verily, verily, I say unto you, He that believeth on me, the works that I do shall he do also; and greater works than these shall he do; because I go unto my Father, John 14:12.
Notice that this was not only for Jesus' disciples, but for all those who believed on Him through their confession of Romans 10:9-10 and receiving the Holy Ghost empowerment through the laying on of hands: Then laid they their hands on them, and they received the Holy Ghost, Acts 8:17. The evidence of the empowerment results in the believer being enabled to 'speak in tongues' (Acts 2:4; 19:6), a contested point of unbelief today among many churches.
The 'faith without works is dead' principle (James 2:26) was a constant reminder by James to the Early Church. The believer must apply action to what he professes.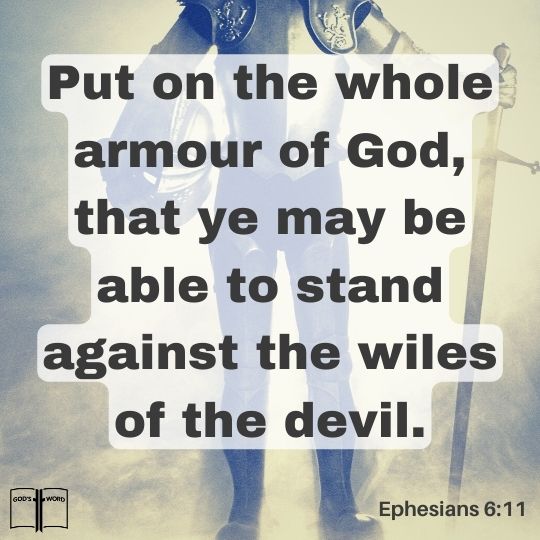 To this end, Paul, to the Ephesian Church, taught on 'action' or 'actively putting Scripture revelation to work' with his example of the Spiritual Armor: Put on the whole armour of God, that ye may be able to stand against the wiles of the devil, Ephesians 6:11, in order to fulfill Jesus' commandment: He that believeth on me, the works that I do shall he do also; and greater works than these shall he do; because I go unto my Father, John 14:12.

The armor, which is the knowledge of Scripture, is available for those reconciled with God through their confessed belief in Jesus being the Son of God and raised from the dead (Rom 10:9-10). Jesus gave this requirement to Nicodemus: Except a man be born again, he cannot see the kingdom of God, John 3:3.
This 'seeing' is the enablement to recognize from Scripture, where and how what is written is to be used to 'resist steadfast' all attempts of the devil to entice believers through unbelief, fear, sickness, and death.
God anointed Jesus of Nazareth with the Holy Ghost and with power: who went about doing good, and healing all that were oppressed of the devil; for God was with him, Acts 10:38.
The mighty work that Jesus was doing still prompted John the Baptist to question whether Jesus was the promised One who was to come, Luke 7:20.
The Downfall of Unbelief
Only with Holy Ghost empowerment and personal faith commitment and action can all of Satan's oppression be made of no effect: I give unto you power to tread on serpents and scorpions, and over all the power of the enemy: and nothing shall by any means hurt you, Luke 10:19.
And 'no', this did not pass away with the Apostles. It is still the unaltered mandate of Christ Jesus for us today! 
The process to acquire this essential know-how insight, to resist or being devoured, depends on how much faith-effort is used without yielding to the temptations, as Jesus did.
Peter, pointing to Jesus' words of John 10:10, said: Be sober, be vigilant; because your adversary the devil, as a roaring lion, walketh about, seeking whom he may devour: Whom resist steadfast in the faith, 1 Peter 5:8-9.
Scripture reminds us to be actively vigilant to oppose being dominated by Satan through unbelief and doubt, and gaining insight into how it is to be accomplished through the renewing of the mind.
Knowing comes by the teaching-revelation by the Holy Spirit, who conveys God's strategies through the knowledge of God's word, the Bible. The lack of this essential know-how was already evident as a weakness as part of the Old Testament unbelieving generation: My people are destroyed for lack of knowledge, Hosea 4:6.

Faith Comes by Hearing and Believing 
The Gospel of John reveals the event of a royal official seeking help for his son, being at the point of death. Jesus declared to the father: Go thy way; thy son liveth, And the man believed the word that Jesus had spoken unto him, and he went his way, John 4:50. The father heard and believed: So then faith cometh by hearing, and hearing by the word of God, Romans 10:17.
Since Pentecost, the born-again experience of John 3:3 is the only way to being moved to renew one's thinking and overcome every form of unbelief, being led into all truth. Nicodemus had to ponder what Jesus had said him.
Holy Spirit empowerment leads to doing the works of Christ: I give unto you power to tread on serpents and scorpions, and over all the power of the enemy: and nothing shall by any means hurt you, Luke 10:19. Believing what Jesus declared, and acting upon it, is the only way to resist and overcome the devil's efforts.
The question to everyone remains, as it was for Adam and Eve ... hath God said, Gen 3:1? Do you believe that?
Doubt hinders Christ's effectiveness in your life (James 1:6-8).
Doubt allows unbelief, uncertainty, pessimism, and mistrust. Each of them discredits the mighty works of Christ.
Jesus, in turn, said:
I am the inexhaustible well, your source of refreshment (Jn 4:14)
I am the door, your entry access into eternal life (Jn 10:9)
I am the way, the direction regardless of so-called alternatives (Jn 14:6)
I have overcome the world (Jn 16:33). A born-again believer has effectively 'put on Christ' (Rom 13:14) and is equipped to do what Jesus did, to 'overcome the world'.
The 'doing' part of John 14:12 is what the devil wants to prevent through every form of his 'devouring'.
The Root of Unbelief 
In the parable of the Talents, a rich man (Mat 25:14-30) assigned his assets to his administrators, each according to their abilities.
One of them in his insecurity did nothing with the assigned assets of his employer and hid them instead.
Born-again believers can either move boldly forward and do what Jesus said to do, or remain inactive, responding to intimidation with unbelief and achieving nothing – a form of being 'devoured by the devil'.
Underestimating Christ's assigned authority allows all diseases, discouragements, fears, lies, superstitions, and worldly greed to remain unchanged as daily life burdens. These can be overcome, if acted upon in Jesus' name, with faith like a mustard seed (Mat 17:20).
And to what do the bible's teachings point? Faith – the overcoming expectant hope for the hopeless (Heb 11:1). It's that motivation for the discouraged, which accesses the abundance of God's promises in every area of life, spirit, soul and body (1Thes 5:23).
The Gospel of Mark relates the event of a father's son, possessed by an evil spirit.
His father had expectation, turning expectantly to the disciples. Yet, his son received no deliverance (Mk 9:18).
Unbelief Hinders Faith
Christ's disciples knew what to do, being empowered to cast out evil spirits, to heal the sick – but this time without success.
Jesus himself was questioned by the boy's father: But if thou canst do any thing, have compassion on us, and help us, Mark 9:22. Was Jesus able to help, seeing that His disciples couldn't?

Interesting how Jesus replied: If thou canst believe, all things are possible to him that believeth. And straightway the father of the child cried out, and said with tears, Lord, I believe; help thou mine unbelief! Mark 9:23-24.
The father had confidently come to the disciples for help but fell into despairing unbelief when his son was not helped.
On the other hand, the woman (Mk 5:25) suffering from bleeding (hemorrhaging) pushed herself toward Jesus, stirred with enough faith to believe and to receive. Her step of faith was persistence. She pushed her way forward until she was able to touch Christ. Action put her faith to work.
Questioned by his disciples, Jesus replied, Because of your unbelief: for verily I say unto you, If ye have faith as a grain of mustard seed, ye shall say unto this mountain, Remove hence to yonder place; and it shall remove; and nothing shall be impossible unto you, Matthew 17:19-20.
The disciples knew what to do but were intimidated, effectively doubting the authority assigned to them.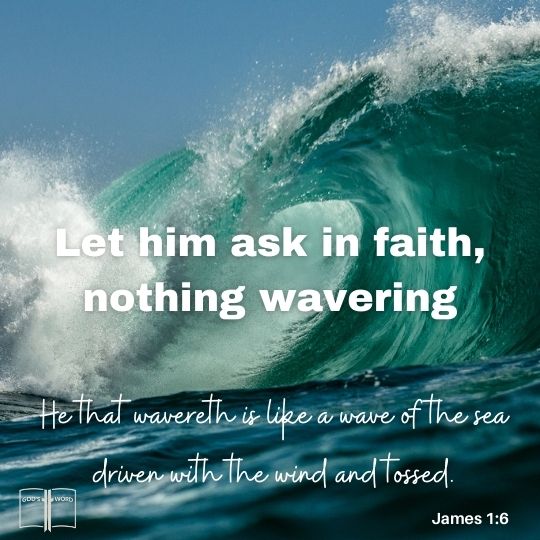 To that point, the apostle James declares: faith without works is dead, James 2:17. Doubt undermines faith. It's unbelief that causes nothing to be received from the Lord: But let him ask (act on) in faith, nothing wavering. For he that wavereth is like a wave of the sea driven with the wind and tossed. For let not that man think that he shall receive any thing of the Lord, James 1:6-7 (brackets inserted).

Faith Equipped to Speak Results
Being a joint-heir of Jesus Christ carries with it the authority of Jesus' name through the indwelling Holy Spirit! That the man of God may be perfect, thoroughly furnished unto all good works, 2 Timothy 3:17.
He, the Holy Spirit, not only guides the insight into the fullness of God's truth (Jn 16:13), but excites the release of necessary faith by the believer: We having the same spirit of faith, according as it is written, I believed, and therefore have I spoken; we also believe, and therefore speak, 2 Corinthians 4:13.
In this way, faith-obedience to the word of Christ takes unbelief captive, being mighty through God to the pulling down of strong holds; Casting down imaginations, and every high thing that exalteth itself against the knowledge of God, and bringing into captivity every thought to the obedience of Christ, 2 Corinthians 10:4-5.
The radical message of the Gospels reveals Kingdom presence and power. Jesus commanded: Heal the sick that are therein, and say unto them, The kingdom of God is come nigh unto you, Luke 10:9. It emphasizes that the expected hope through faith (Heb 11:1) can and will be realized in order to overcome every kind of oppression.
4 Points to Overcome Unbelief

Don't tolerate contradictions in your life.

Adhere to the faithful administration of the Scriptures as it is written.
Achieve what they declare by the working of your faith with action: For therein is the righteousness of God revealed from faith to faith: as it is written, The just shall live by faith,

Romans 1:17.

Gain the upper hand against all opposition that wants to infiltrate into and weaken every area of your Christian life. God's Word identifies you to be above and not beneath, and to be the head and not the tail (Deut 28:13). 
Joshua, as he prepared to lead Israel into the Promised Land, was told plainly: This book of the law shall not depart out of thy mouth; but thou shalt meditate therein day and night, that thou mayest observe to do according to all that is written therein: for then thou shalt make thy way prosperous, and then thou shalt have good success, Joshua 1:8. 
That's faith in action to overcome unbelief.
---
PIN THIS TO YOUR PINTEREST BOARD


---
Go ye therefore, and teach all nations, baptizing them in the name of the Father, and of the Son, and of the Holy Ghost: Teaching them to observe all things whatsoever I have commanded you: and, lo, I am with you alway, even unto the end of the world. Amen.
Matthew 28:19-20
Unless stated otherwise, all Bible passages quoted in blue are from the KJV translation.