Love Your Neighbour As Yourself
➤ by Isabel Jennings

How to Love Your Neighbour as Yourself
"Master, which is the greatest commandment in the Law?"
The experts of the Law were constantly trying to trip Jesus up. They always wanted to see if He might say something that contradicted the careful studying of the Law they had done.
How did Jesus answer? He asked them what the scriptures said. They replied with, "Love the Lord your God with all your heart and soul and mind, and love your neighbour as yourself" (Mt 22:36-40; Lk 10:27).
Jesus said that the entirety of the whole Law and the prophets hung on this one thing: love.
We seem to understand the concept of loving God.
We can love God, knowing that He sent His only Son to die a thieves' death in our place.  We can be devoted to a God who rescued us giving us eternal life, and continues to act on our behalf.
We might struggle with giving all of ourselves to Him, but do we really understand the concept of loving God? God has never lied about us, stolen from us, or done any myriad of bad things that humans do to each other.
Some might suggest that it's easier to love God than loving others, those around us. He loved us first. He is always showing His love. His love is unconditional.
But what about loving your neighbor? That person beside you in this journey called life? What about that person who lied to you? Or stole from you? Or who has been so wicked? Do you love them? What does love mean? What does it look like? 
Who Is My Neighbor?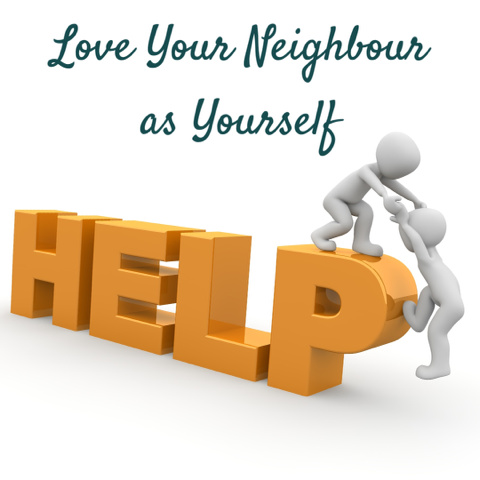 The word "neighbor" in the Greek means "someone who is near," and in Hebrew, it means "someone that you have an association with." These meanings limited the word, and for those experts, it would have implied only a fellow Jew and would have excluded Samaritans, Romans, and other foreigners.
At this point in this discussion, Jesus then tells the parable of the Good Samaritan. He told it to correct the false understanding that the expert of the Law had of who his neighbor was and what his duty was to his neighbor. 
Parable of the Good Samaritan
We find this story of the good Samaritan detailed in the New Testament in Luke 10:30-37.
A Jewish man was travelling along the road from Jerusalem to Jericho when thieves ambushed him. This road was notorious for this, and anyone who travelled along this road took a considerable risk travelling there. The thieves not only stole all that this man had, but they left him half-dead on the side of the road. 
The story would lead us to believe that he was expected to die. Along that same road came a priest. He saw that poor man lying there, beaten and broken, but he crossed the road and passed by the man, ignoring his plight. Next came a Levite, and he did the same thing.
By nature of both of their positions, they who studied the scriptures and were the keepers of the Law, should have been compassionate and desired to help others. 
The third man who arrived at the scene of this story was a Samaritan man.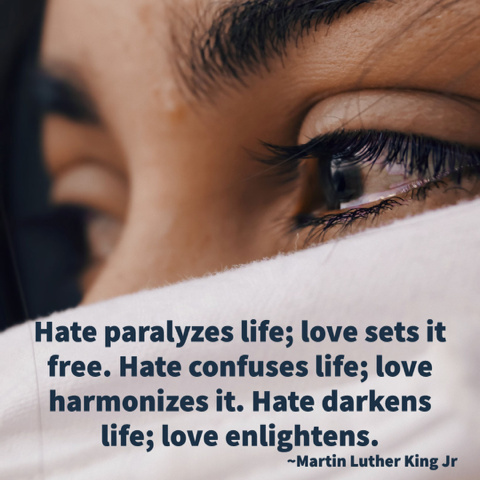 The hatred between the Jews and the Samaritans was fierce and long-standing. After King Solomon's death, Israel was divided into two kingdoms.
The northern kingdom, called Israel, established its capital first at Shechem and later moved to the hilltop city of Samaria. The southern kingdom was called Judah.
In 722 B.C., Assyria conquered Israel and took most of its people into captivity. The invaders then brought in non-Jews to colonize that land (2 Kings 17:24). These foreigners brought their pagan gods with them, and the Jews who were left behind began to worship those false gods alongside the God of Israel (2 Kings 17:29-41).
Intermarriages also took place, which the Law forbade. For their part, the full-blooded, monotheistic Jews despised the mixed marriages and multi-god worship of their northern cousins. They considered the Samaritans to be "dogs" or "half-breeds". 
The Samaritans also made life difficult for the Jews when they returned from captivity with Nehemiah to rebuild the walls of Jerusalem. There were walls of bitterness and hatred on both sides. That hatred hardened for hundreds of years. 
So, it was no coincidence that Jesus used a Samaritan as the hero in this story. He understood the hatred that Jews held for their northern cousins.
It is not the person from the radically different culture on the other side of the world that is hardest to love. It is typically the nearby neighbor whose skin colour, language, rituals, values, ancestry, history, and customs are different from your own.
Jesus pointed out that what made the Samaritan a good neighbor was that he overlooked the nationality of the injured person and saw only an injured person. At that moment, nothing else mattered.
Jesus told this story to point out that to love our neighbors as ourselves, we need to look past people's skin colour and nationality and see the injured person that Jesus sees.
We must love others, not judge.
The Priest and the Levite started on the right path, but eventually, they forgot about helping injured people. They were consumed in the "works" of the kingdom, to the point that they ignored who they were called to serve.
Do we do the same?
Do we judge others because of where they are in their journey? Do we look down on the prostitute, the thief, the liar, the cheat? Do these lost and injured people come into our churches, and we walk right past them as if we do not see them? Do we expect them to "get right" and then we will accept them?

The Church: a Hospital?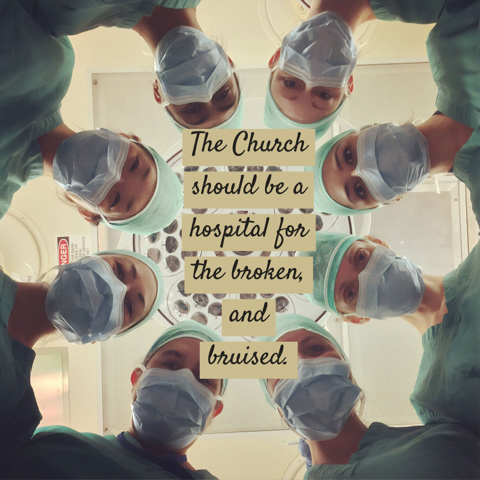 The church is supposed to be like a hospital. We typically find people in different spectrums of sickness at a hospital. Some people were once very sick but are now entirely better. Others recovered enough to go home, but they still have the remnants of a sickness. And occasionally, there are very sick people there, people who are so ill that they need one-on-one special care. 
We are all in a different stage of our journey with Jesus. Those who are the sickest need the most help. They require the most love. They require the most acceptance. They need people to come alongside them and support them until they are well enough to walk this journey without constant support.
We were once in their shoes. It is our job to stop and pour healing oil into their wounds, like the Samaritan did.
Jesus: Our Example
They called Jesus a friend of sinners.
The Religious thought it was a terrible thing to be associated in any way with those who were down and out. They were better than those people. They were pure and holy. Those people were tainted and worthless.
But Jesus didn't see it that way. He was on a mission of genuine love for all people. He ate with tax collectors (Lk 5:29), healed the sick (even those who others assumed had sinned, like the blind man who the disciples wondered if he had sinned or his parents), healed the Roman centurion's servant (Mt 8:5-13), defended the woman with the alabaster jar (Lk 7:36-50) and he cast out demons.
No one garnered Jesus' disdain except the religious rulers. Jesus constantly admonished them not to judge nor condemn. He told them things like "love your enemies, do good to those who hate you" and "do unto others as you would have them do unto you," (Lk 6:27-36)
7 Ways How to Love Your Neighbor as Yourself
The Bible says to love your neighbor like you love yourself. In order to love my neighbor, then I might need to ask: "How do I love myself"? 
You know yourself. You invest time in discovering what you believe, value, and like. You pursue things that interest you. So, invest time in getting to know others, even if they are entirely different from you are. Philippians 2:4 says: Look not every man on his own things, but every man also on the things of others. 
You value that you are different from others. You don't need to compare yourself to others because they aren't better or worse, more or less than you. They're just different. Do the same for others. Philippians 2:3 says: Let nothing be done through strife or vainglory; but in lowliness of mind let each esteem other better than themselves.
You know what your strengths are, and you rely on them to be the best version of yourself. Look for others' strengths and focus on them instead of being so focused on their weaknesses and failures. 2 Corinthians 2:9 says: For to this end also did I write, that I might know the proof of you, whether ye be obedient in all things.
You might be hard on yourself, but you let yourself off the hook for your mistakes and imperfections. Some of us hold grudges against people who make mistakes for a very long time. Set them free (and yourself!) by forgiving them. Forgiving them means that the debt of making it right with you is gone because that debt can be very heavy. Ephesians 4:32 says: And be ye kind one to another, tenderhearted, forgiving one another, even as God for Christ's sake hath forgiven you.
You take good care of your body by feeding it good food, exercising, going to the doctor when you are sick, and getting a good night of rest. You can take care of others around you, as you see their needs. Hebrews 13:16 says: But to do good and to communicate forget not: for with such sacrifices God is well pleased.
You stand up for yourself. You speak up when something is wrong or unfair, or you are being mistreated. Do the same for those who cannot speak up for themselves. Isaiah 58:6 says: Is not this the fast that I have chosen? to loose the bands of wickedness, to undo the heavy burdens, and to let the oppressed go free, and that ye break every yoke?
Proverbs 31:8-9 says: Open thy mouth for the dumb in the cause of all such as are appointed to destruction. Open thy mouth, judge righteously and plead the cause of the poor and needy.
You ask for help because needing help is human. Help others when they need it, without expecting anything in return. 

Colossians 3:23-24 says: 

And whatsoever ye do, do it heartily, as to the Lord, and not unto men; Knowing that of the Lord ye shall receive the reward of the inheritance: for ye serve the Lord Christ. 
Luke 6:35 says: But love ye your enemies, and do good, and lend, hoping for nothing again; and your reward shall be great, and ye shall be the children of the Highest: for he is kind unto the unthankful and to the evil.
We need to examine ourselves and see, are we more like the Priest and the Levite or the Samaritan?  Is there is any hate or racism, or judgment in our hearts? Do we distance ourselves from the lost or broken? Or do you actually love your neighbour as yourself?
Let's not forget what Jesus Christ said and did. He spoke with real love, compassion, and understanding. He met each person where they were at (even the religious folks he challenged in an attempt to save them!).
In Luke 11:42, Jesus chastised the Pharisees for tithing but ignoring justice and love. They were obeying some requirements of the Law of Moses, but were missing the most significant part of the great commandment: love!
Love Your Neighbour as Yourself
This world is severely lacking in both justice and unconditional love. You and I should be the ones championing causes, standing up for the marginalized, and not turning a blind eye. We should not assume that someone else will take care of those people. 
Let us love our neighbors everywhere we go, and so let our lights shine and do the right thing with our whole heart. Let's go out into the world and be what Jesus called a good neighbor.
---
PIN THIS TO YOUR PINTEREST BOARD


---
Go ye therefore, and teach all nations, baptizing them in the name of the Father, and of the Son, and of the Holy Ghost: Teaching them to observe all things whatsoever I have commanded you: and, lo, I am with you alway, even unto the end of the world. Amen.
Matthew 28:19-20
Unless stated otherwise, all Bible passages quoted in blue are from the KJV translation.