What is Water Baptism? And What it isn't.
Over the centuries, preachers, popes, and theologians have expounded upon baptism, the hows, whys, and wherefores, until there are so many differences, so many ways to do it, and so many reasons why, that it totally confuses the mind!
Baptism has become a tradition that many do without giving it any thought. It is done many times by 'non-Christians', that's the 'un-born again' denominational person who attends church on Easter and Christmas.
They do it because baptism is what one does to name the baby, to make sure the baby is a Christian, to choose Godparents, and to have a party.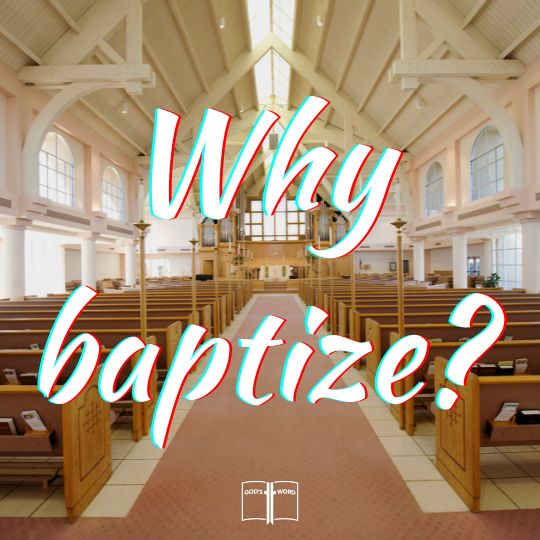 Going to different churches, you'll encounter this confusion. You will see:

Sprinkling of babies. Immersion of babies.
Sprinkling of adults. Immersion of adults.
Immersion three times, 'In the name of the Father, the Son, and the Holy Ghost' with the face down.
Immersion three times, 'In the name of the Father, the Son, and the Holy Ghost' with the face up.

One may first have to attend classes for 1 month, 2 months, or a year.
One may have to fast for the previous week, not just the one being baptized, but the one doing the baptism.
Etc., etc., etc.
Total confusion!
But God is not the author of confusion, 1 Corinthians 14:33!
The Word: Baptize
The dictionary definition of baptize is: to administer baptism, give a name or nickname to. Origin: Greek, baptizō, meaning to immerse.
In the 1600's, when the translators of the King James Bible encountered the original Greek words βάπτισμα baptisma and βαπτίζω baptizō, they had a problem. How could they translate baptizō and baptisma as 'immersion' since most of the church was sprinkling people and not immersing them.
The solution? Transliteration.
Transliteration is writing a word using the closest corresponding letters of a different alphabet or language. New English words were created. Baptism and baptize.
Since that time, the translators of almost every English version have continued to transliterate baptizō as baptize.
Forty of the most authoritative lexicons give dip, immerse, or plunge as the first meaning of baptizō with the idea of the person or thing being engulfed or overwhelmed by whatever the substance is. 
Water is not necessarily the substance into which a thing or person is immersed. Think of a cloth immersed in dye ... that's baptizō. The word describes the action. It can be any liquid or even a thing – so scriptural references to being baptized in the Holy Spirit gives us the picture of a person being fully engulfed by the Holy Spirit - an awesome picture. 
Jesus said: For John truly baptized [baptizō = immersed] with water; but ye shall be baptized [baptizō = immersed] with the Holy Ghost not many days hence, Acts 1:5 (brackets mine).
Side note: To see the Greek words & meanings for yourself, use Olive Tree (free) and the KJV Strong's. As you hover over the English words, the Greek translation with meanings will show.

What is Baptism?
Christian baptism with full immersion is a step of obedience for a believer. Having received salvation (Rom 10:9-10), baptism is a public testimony, an outward expression of the new life received through Christ.
This is a believer's baptism and is different from being 'baptized' as an infant, being sprinkled to wash away one's sins, or to seal one's salvation as entry into a denomination.
The importance of water baptism is that it is a point in a believer's life where the decision is made to obey the Word of God.
Why is Baptism Important?
The reason we baptize is that it is part of the Great Commission that Jesus commanded us do.
Jesus said: Go ye therefore, and teach all nations, baptizing [baptizō = immersing] them in the name of the Father, and of the Son, and of the Holy Ghost, Matthew 28:19 (brackets mine).
It's really as simple as that.
Deuteronomy 29:29 says that: The secret things belong unto the LORD our God: but those things which are revealed belong unto us and to our children for ever, that we may do all the words of this law, (emphasis mine). In other words, things that God reveals to us to do, we need to do. 
Since Jesus told us to baptize, we can be assured that the Scriptures will make it clear where, when, how and whom to baptize. 
The 'why', however, is really not clearly laid out. There are a few places that provide some insight. 
Then cometh Jesus from Galilee to Jordan unto John, to be baptized [baptizō = immersed] of him. But John forbad him, saying, I have need to be baptized [baptizō = immersed] of thee, and comest thou to me? And Jesus answering said unto him, Suffer it to be so now: for thus it becometh us to fulfil all righteousness, Matthew 3:13-15 (brackets mine).
No reason is given why Jesus said it was to fulfill all righteousness. One could say, if it was good enough for Jesus, it's good enough for us. In other words, if the Son of God needed to be baptized and He tells us that we need to be baptized, that should be enough of a reason to follow in the footsteps of Jesus and do what He commands us.
Paul gives further insight into this:
Know ye not, that so many of us as were baptized [baptizō = immersed] into Jesus Christ were baptized [baptizō = immersed] into his death? Therefore we are buried with him by baptism [baptisma = immersion] into death: that like as Christ was raised up from the dead by the glory of the Father, even so we also should walk in newness of life, Romans 6:3-4 (brackets mine).
Buried with him in baptism [baptisma = immersion], wherein also ye are risen with him through the faith of the operation of God, who hath raised him from the dead, Colossians 2:12 (brackets mine).
The picture given is in three parts: the dying, the burial, and the resurrection of Jesus Christ. The whole act of baptism is performed 'on' the person, that is, he is put down into the water, completely engulfed, and taken back up out of the water. He 'dies' – really is 'killed' as our Lord was, 'buried' and then 'raised', just as our Lord was.
Both the believer and the church participate in the re-enactment of this unique work of the Lord Jesus. In the Great Commission (Mt 28:19), we are commanded to baptize (immerse). We do it simply because Jesus told us to.
It's a case of simple obedience. Do we need to know all the reasons why? NO! We may want to know or understand, but this is really just a case of obedience.
How is Water Baptism Done?
The classic example is given in the book of Acts, where Philip is helping the Ethiopian eunuch to understand the Scriptures.
And as they went on their way, they came unto a certain water: and the eunuch said, See, here is water; what doth hinder me to be baptized [baptizō = immersed]? And Philip said, If thou believest with all thine heart, thou mayest. And he answered and said, I believe that Jesus Christ is the Son of God. And he commanded the chariot to stand still: and they went down both into the water, both Philip and the eunuch; and he baptized [baptizō = immersed] him.
Acts 8:36-39 (brackets mine)
This example of going down into the water is clearly not a sprinkling with water. Using the word, baptizō, is a clear indication that this was total immersion.
So, where did the idea of sprinkling come from?
First of all, whenever the word 'sprinkle' is used in the Scriptures, it is translated from the original Greek words, rhantizō, proschysis, and rhantismos, meaning sprinkling and pouring. If baptism was to be a case of sprinkling, there were Greek words available to be used. 
When and Why Did Sprinkling for Baptism Start?
The first real evidence of baptism by a method apart from immersion was of the scholar, Novatian, in the third century. Evidently, while Novatian was still going to catechism class, he became sick to the point of death. Since he thought he was about to die, he asked for baptism in order to save his soul.
However, he couldn't be immersed three times, as was the custom. Yet, something had to be done, and quickly. While stretched out on his bed, water was poured all around him, in an outline enclosing his whole body. It was then poured all over him until he was drenched, making it as close to immersion as possible. They called it affusion (pouring) and aspersion (sprinkling).
It was understood that this would be sufficient to 'save' Novatian in case he died. However, it was not considered good enough to act as a 'regular' baptism were he to regain his health.
Cyprian, who was the Bishop of Carthage at that time, defended aspersion by stating that the sprinkling of water prevails equally with the washing of salvation.
And so it started. Error.
Does Baptism Save?
You probably noticed with Novatian and others, that the belief was that baptism saved. With this, it's obvious that error was already creeping into part of the church.
This baptismal regeneration (the theological term for being saved through baptism) is based on scriptures that appear to tie salvation to baptism.
And he said unto them, Go ye into all the world, and preach the gospel to every creature. He that believeth and is baptized [baptizō = immersed] shall be saved; but he that believeth not shall be damned, Mark 16:15-16 (brackets mine).
Go ye therefore, and teach all nations, baptizing [baptizō = immersed] them in the name of the Father, and of the Son, and of the Holy Ghost, Matthew 28:19 (brackets mine).
Matthew gives a more complete rendering of what Jesus said in relation to baptism. Mark just quotes a portion of it. If baptism were key to salvation, then Mark would also have added that who refuses baptism will be condemned.
Another passage that seems to say that baptism saves is Acts 2:38: Then Peter said unto them, Repent, and be baptized [baptizō = immersed] every one of you in the name of Jesus Christ for the remission of sins, and ye shall receive the gift of the Holy Ghost.
Although it may seem to suggest that Peter was teaching that baptism is for the remission of sins, earlier, in verse 21 he said: that whosoever shall call on the name of the Lord shall be saved.
Further, in his letter, he clearly teaches that we were redeemed through the blood of Christ: Forasmuch as ye know that ye were not redeemed with corruptible things,... But with the precious blood of Christ, 1 Peter 1:18-19.
However, the close joining of 'repent, and be baptized' in Acts 2:38 makes total sense in the early church. Every record shows that the new believer was baptized immediately after his salvation experience. Baptism was the immediate response to the act of salvation. The person believed and was baptized.
Repentance and baptism went hand-in-hand. It was in immediate obedience to God's Word. It was even questioned that if some didn't want to be baptized, had they really decided to accept the Lord?
Baptism does NOT save. God's Word is VERY clear about that.
Works are things we do. Baptism is something we do. God's salvation is a gift. It is something we receive. 
It is clear, therefore, that baptism does NOT save.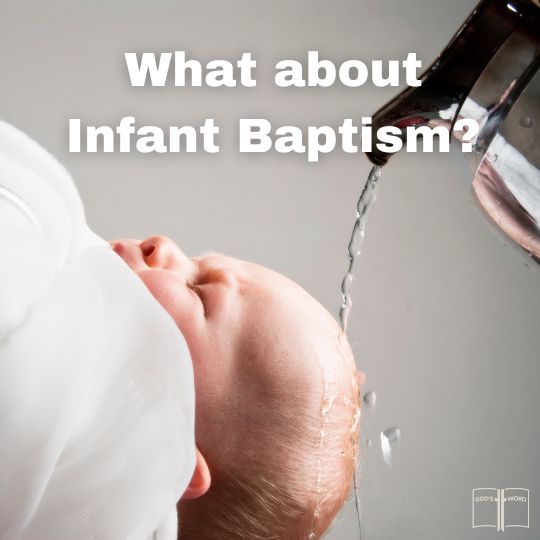 What about Infant Baptism?
False teaching started creeping into the early church that baptism saved. And with that idea, it didn't take long to decide to baptize babies. It would be foolish, and even wrong, to forbid or delay baptism when the means of salvation was so readily available.
It would be much better to secure salvation for a baby before it had a chance to become hardened by a sinful life, and perhaps not submit to baptism at all.
And so, the baptism of infants started. Actually, it was said that if a baby were expected to die, baptism should be done. The next step was that baptism progressed to healthy babies as well.

Today, if everything is going fine, we normally don't write about it. It's when things go wrong that letters and social media posts are written, to those in authority, to the press, to anyone who will listen. This happened during those early church times, as well.
Not all the churches were involved in sprinkling and infant baptism. They continued using the Scriptures as their guide. However, with sprinkling and infant baptism happening, letters were written that argued one way and the other. It's these historical letters that are our proof that many took issue with the direction some churches were taking regarding baptisms.
If sprinkling and infant baptism were scriptural, the church, at the time of the apostles, would have been baptizing that way. No major controversy would have arisen. But, major controversies did arise, simply, because this false teaching was being promoted.
Churches that today still follow infant baptism and sprinkling can only point back to the early church for their reason for doing it. There are no scriptures to back them up. They can only assume that babies were in the households that were mentioned when households were baptized.
Let's look at examples of households that are used as proof for the ordinance of infant baptism:
1. Cornelius
And Cornelius waited for them, and had called together his kinsmen and near friends ... Now therefore are we all here present before God, to hear all things that are commanded thee of God ... While Peter yet spake these words, the Holy Ghost fell on all them which heard the word ... For they heard them speak with tongues, and magnify God. Then answered Peter, Can any man forbid water, that these should not be baptized [baptizō = immersed], which have received the Holy Ghost as well as we? Acts 10:24-47 (brackets mine).
Cornelius called together his family and friends to listen to Peter. Those that heard the word, spoke in tongues, and those were the ones who were baptized.
No baby is mentioned as being part of that household.
2. Philippian Jailer
Sirs, what must I do to be saved? And they said, Believe on the Lord Jesus Christ, and thou shalt be saved, and thy house. And they spake unto him the word of the Lord, and to all that were in his house. And he took them the same hour of the night, and washed their stripes; and was baptized [baptizō = immersed], he and all his, straightway. And when he had brought them into his house, he set meat before them, and rejoiced, believing in God with all his house, Acts 16:30-34 (brackets mine).
This happened just after midnight when Paul and Silas were praising God in jail. It is hard to believe that in the middle of the night, the jailer would awaken a baby to listen to what Paul and Silas told them about believing on the Lord Jesus Christ. And it states that the jailer believed with all his house. Of course, a baby can't believe.
Here, too, no baby is mentioned as being part of that household.
To base infant baptism on the assumption that there must have been babies in these households is really reaching at straws to find some kind of scripture backing for this ordinance.
Does Baptism Replace Circumcision?
Another proof given for infant baptism is the notion that baptism replaces circumcision.
In the Old Testament, circumcision was performed only on male children. It was an involuntary private act, forced on the infant without his consent or knowledge. It was done before the baby could prove himself worthy of the covenant.
On the other hand, in the New Testament, baptism identifies both males and females with the work of Jesus Christ. Baptism is a conscious act, answering, as Philip said, If thou believest with all thine heart, Acts 8:37, in a public place as a testimony of the individual's new birth.  
There is no common ground at all between circumcision and baptism. Circumcision was done away with (Gal 5:6) and nothing needed to be instituted to replace it.
Can One Be Re-Baptized?
It may be you were baptized as a baby, probably by sprinkling, although some orthodox churches immerse babies. You had no say in the matter. It was not as a consequence of wanting to obey God. You had no choice in the matter.
In the meantime, you have come to realize that ONLY YOU can decide to accept Jesus. Your parents can't do it for you, and you aren't a Christian just because they are. You have accepted Jesus (Rom 10:9-10) into your life.
So, now what? The next natural step is to want to obey God and be baptized by immersion. But you've already been baptized as a baby. Is it scriptural to be re-baptized?
Since your first 'baptism' wasn't really a scriptural baptism, there's actually a better term than being re-baptized. 
It's being rightly baptized!
Yes, the bible actually addresses that! In Acts, Paul came across some believers in Ephesus. They mentioned their lack of knowledge about the power of the Holy Spirit, so Paul asked them: Unto what then were ye baptized [baptizō = immersed]? And they said, Unto John's baptism [baptisma = immersion]. Then said Paul, John verily baptized with the baptism [baptisma = immersion] of repentance, saying unto the people, that they should believe on him which should come after him, that is, on Christ Jesus. When they heard this, they were baptized [baptizō = immersed] in the name of the Lord Jesus, Acts 19:3-5 (brackets mine).
In other words, once they had an understanding of the need to be rightly baptized, Paul baptized them. 
If you've been baptized as a baby, or sprinkled, or baptized into a certain church denomination, there is scriptural precedence to be baptized properly.
The Significance of Baptism

Simply put, we are baptized because it is one of the commands of Christ. It's an act of obedience. We do it because we love Him. Even if we don't understand all that it means, it's a step of simple obedience to God.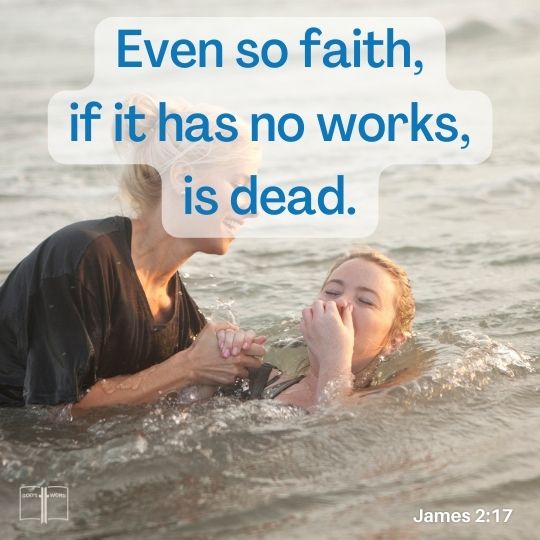 As mentioned earlier, baptism is doing a work. We are not saved by works, which is why baptism doesn't save. But, works are needed. James said: Even so faith, if it hath not works, is dead, James 2:17. The purpose of baptism is that it is a work which confirms our act of faith when we became a follower of Jesus Christ. It's a physical act that makes a public declaration of our changed life, from our old self to our new Christian life.
Key Point: Baptism, an act of obedience to God.

---
---
Go ye therefore, and teach all nations, baptizing them in the name of the Father, and of the Son, and of the Holy Ghost: Teaching them to observe all things whatsoever I have commanded you: and, lo, I am with you alway, even unto the end of the world. Amen.
Matthew 28:19-20
Unless stated otherwise, all Bible passages quoted in blue are from the KJV translation.