How to Trust Jesus in the Middle of a Storm

➤ by Isabel Jennings

In the eye of the storm, you remain in control.
In the middle of the storm, You guard my soul.
You alone are the anchor; when my sails are torn,
Your love surrounds me, in the eye of the storm.
~ Ryan Stevenson
We use the term "storm" very broadly, don't we?
A storm is a disturbance of the atmosphere marked by wind, usually precipitation, thunder, or lightening. A storm could be a gentle spring rain, or it could be a term used to describe a tumultuous hurricane with 150 km/h winds.
All of us go through storms in our lives. These storms might be small and somewhat innocuous, which is inconvenient or annoying. But what happens when a big storm hits, one that maybe came out of nowhere, and one you are straining to stay afloat in?
Have you ever had everything seem to be going wrong simultaneously, or too many things simultaneously pull at your time, emotions, or attention? Have you ever felt like you were out of control?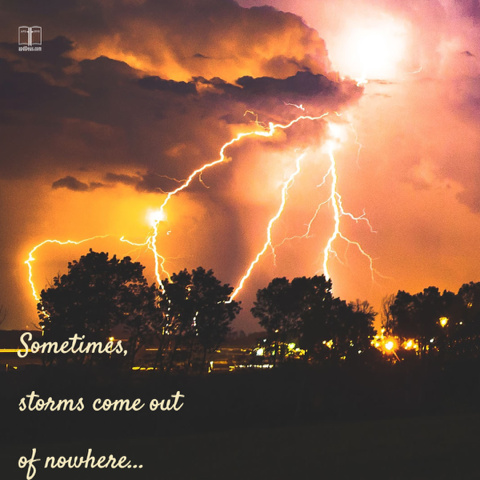 Life often seems to be peppered with one storm after another, and often our greatest storms strike right after our most significant victories.
In Mark 6, we see that the disciples had just come off a tremendous high: they had fed over 5,000 men (not including women and children) with a little boy's lunch of 2 loaves and 3 fish.
One of the disciples had calculated that it would take over 8 months' worth of wages to feed all of these people with just a bite (not a meal). But Jesus had completely fed the crowd until they were all satisfied, and with such a little lunch.
Now the evening was done, and Jesus had sent all the people home. Immediately, He sent the disciples off in their boat to cross over to the other side of the lake, while He went up into the mountains to pray.
I imagine that Jesus, being 100% human, felt tired and drained, just like we all do after a busy day working or dealing with people who are always needing us to fix this or solve that. He needed to recharge his batteries, and He did that by spending some time alone with God in prayer.

I can imagine the disciples clambering into the boat, talking excitedly about all that Jesus had done that day. Maybe they relived their astonishment at pulling loaf after loaf out of the baskets, or how they had gathered 12 baskets of leftovers!
They rowed and rowed into the heart of the sea, and the further they went, the worse the weather became. The wind began to pick up. The waves began to climb higher and higher, and likely were crashing over the sides of the boat. The disciples were straining hard to stay afloat.
Have you ever been in fearful circumstances and times of distress where you just can't handle the storms of life, the stress, anxiety, or the pain of the situations that you are facing?
Do you ever feel like screaming, "God, where are you?" "God, can you hear me?" "God, do you even know what I'm facing?" "God, do you even care that I'm all alone?" Perhaps you currently have a looming situation so large on the horizon that you can't even see anything else except "it".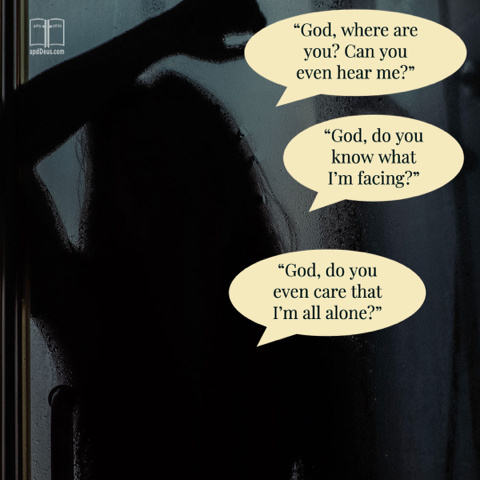 Mark 6:48 says: And he (Jesus) saw them toiling in rowing; for the wind was contrary unto them.
Even though Jesus wasn't in the boat with them, His eyes were on them the entire time from where He was on the mountain. He knew where they were and what they were experiencing. He knew how they were struggling. He saw that it was dark and that there was no one nearby to help them.
Are you struggling, in pain, and stressed? My friend, Jesus Christ sees you! He knows where you are, and He is aware of what is going on in your life.
This story of Jesus continues and says: and about the fourth watch of the night he cometh unto them, walking upon the sea, and would have passed by them, Mark 6:48. Jesus was going to walk past the boat.
The Bible doesn't say why, but we can wonder if He was going ahead of them to part the waters like He had parted the Red Sea. Or, perhaps He was going to serve as a windbreaker, letting the furious storm pummel Him while giving them peace and stillness behind Him. Or maybe He was going to lead them to a safe port.
Whatever the reason, we can know this: Jesus goes before us into every storm, and He will help us out of the storm. Just because He is leading you, and going before you, doesn't mean that He will immediately silence the wind and the waves. You see, Jesus didn't do that here in this story.
The disciples set out, then the storm came upon them and escalated in strength before Jesus intervened somewhere between 3am and 6am. Jesus is never a late arrival to any situation. He is always there beside you, aware of what is happening, and He is interceding for you (Hebrews 7:25).
When Jesus showed up, the disciples were terrified.
If I saw a man walking on water, an impossibility by my limited experience, I would have been terrified. I might have even considered that this was a vision because God had come to take me to heaven!
Whatever Jesus was going to do when he was passing them by, He abandoned that course in order to address their fears: Be of good cheer: it is I; be not afraid, Mark 6:50.
Jesus will always come to where you are and address your fears. He sees that you are weak and weary, and He will give you peace in the middle of your storm. Those disciples were so important to Him that He met them at their need.
Not only did Jesus, the Son of God, see their situation, pray for them during the situation, and show up to their situation, but He got into their boat. He stepped into the middle of their hopeless situation and became an ever-present help in times of trouble. He was with them.
Then He did the best part of the whole story: Jesus got into the boat, and the wind and the waves simply just calmed down.
God may not calm the storm the way you think that He should, or at the time when you think He should. But maybe God wants to calm the storm inside of you before He calms the storm around you.
This powerful storm was not the first storm that the disciples had encountered crossing the Sea of Galilee. We see that Jesus was unflustered by the raging seas nor the wind.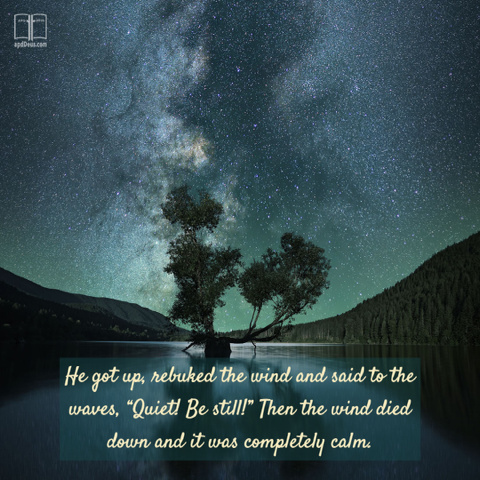 In fact, He was fast asleep during some of the storms they rowed through. One violent storm (Mark 4:37-41) was so bad that the disciples didn't think they would survive, and they woke Jesus saying: Master, don't you care that we perish (Mk 4:38)?
Jesus did care. He talked to them about their little faith at that moment: Don't you trust me? Haven't you been listening to what I've been teaching you all along? Don't you remember what I have promised you?
And he arose, and rebuked the wind, and said unto the sea, Peace, be still. And the wind ceased, and there was a great calm.
Mark 4:39
How to Trust Jesus in the Middle of the Storm

Do we trust God in the middle of hard times and life's storms? Or, are we trying to bail out our own boat because when we see Jesus calmly asleep inside our boats, we feel like he doesn't care? 

There may be a vicious storm raging all around you, but Jesus is there, in the middle of your personal storm.
You do not need to bail out the water all alone. 
You do not need to send out a frantic SOS to anyone who will listen nearby. 
You do not need to desperately find the life jackets. 
Christ Jesus is already in your boat. He is fully aware of what is going on, and He is an experienced captain. He is there to comfort and to bring you peace.
Take time to pray alone and recharge yourself for the day with God's Word. 
Silence the noise and distractions around you, so that you can hear God's voice. 
Get refreshed and get a new perspective. 
Let Him speak to you and pour His peace into you. 
Then you can truly face the storm. It may rage all around you, but the storm will not be inside of you.
---
PIN THIS TO YOUR PINTEREST BOARD


---
Go ye therefore, and teach all nations, baptizing them in the name of the Father, and of the Son, and of the Holy Ghost: Teaching them to observe all things whatsoever I have commanded you: and, lo, I am with you alway, even unto the end of the world. Amen.
Matthew 28:19-20
Unless stated otherwise, all Bible passages quoted in blue are from the KJV translation.