Positive Outcomes by Grace

➤ by Pastor Andy Fulson

Preparation for Positive Outcomes

The Christian life is to be successful, content, and satisfying, filled with hope and boldness.
Can it be achieved through human will? No. It was planned from the beginning by grace, the unearned favor of God, based on His love for mankind: And this is the will of him that sent me, that every one which seeth the Son, and believeth on him, may have everlasting life, John 6:40.
It does, however, mandate the prerequisite to be 'born-again', which Jesus revealed to Nikodemus: Verily, verily, I say unto thee, Except a man be born again, he cannot see the kingdom of God, John 3:3 [Bolded for emphasis].
The 'see', in verse 3 (g1492 - eido), refers to knowing, to be sure, recognize, understand (Strong's Concordance). 
Side note: To see the Hebrew/Greek words & meanings for yourself, use Olive Tree (free) with KJV Strong's. Hovering over the English words, the Hebrew/Greek translation with meanings will show.
God's promises are only available for those who have confessed (accepted) Jesus as Lord: That if thou shalt confess with thy mouth the Lord Jesus, and shalt believe in thine heart that God hath raised him from the dead, thou shalt be saved. For with the heart man believeth unto righteousness; and with the mouth confession is made unto salvation, Romans 10:9-10.
Salvation not only bestows reconciliation with God, through the guidance of the Holy Spirit, but also provides the positive outcomes by which the works of Jesus are accomplished, and prompts the renewal of the mind (Rom 12:2) with insight and understanding and wisdom (Eph 1:17-20).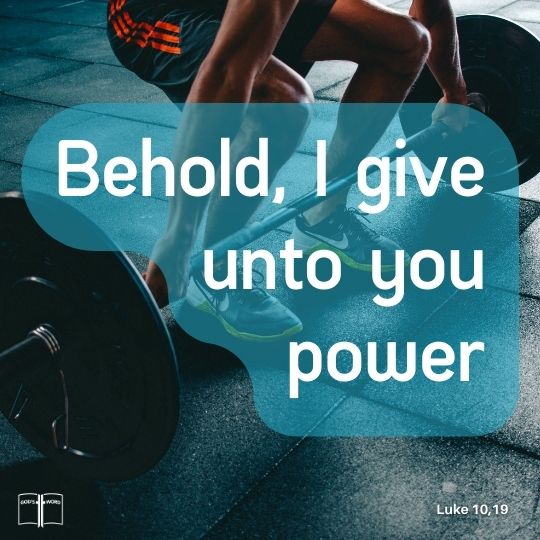 The Purpose of the Intended Positive Outcomes

Jesus revealed to Nicodemus the available grace of God.
Without being 'born again', there is:
no reconciliation with God
no entitlement to God's promises
no assigned guidance of the Holy Spirit
no authority to overcome Satan's hindrances
Being 'born again' activates the positive outcomes based on: Behold, I give unto you power to tread on serpents and scorpions, and over all the power of the enemy: and nothing shall by any means hurt you, Luke 10:19.
At the time Nicodemus came to Jesus, no one else loosened people, like the crippled woman, from demonic powers: And, behold, there was a woman which had a spirit of infirmity eighteen years, and was bowed together, and could in no wise lift up herself. And when Jesus saw her, he called her to him, and said unto her, Woman, thou art loosed from thine infirmity. And he laid his hands on her: and immediately she was made straight, and glorified God, Luke 13:11-13.
It was this kind of 'seeing' that leads to recognize, to know, to have, to discern, and be empowered. Everyone who confesses Jesus is enabled 'to do His works' (Jn 14:12), in order that: The blind receive their sight, and the lame walk, the lepers are cleansed, and the deaf hear, the dead are raised up, Matthew 11:5.
God's promises provide the 'seeing' (Jn 3:3) and the 'peace' of (Mt 11:28) and the 'patience' (Gal 5:22). They're only valid for those who are 'born-again', who value God's Word higher compared to what other people say or claim, or what Satan's temptations attempt, as in Matthew 4:1-10.
Nicodemus responded to Jesus' prompting of 'being born-again' with: How can these things be? John 3:9.
Jesus, the expected Messiah, answered him: Art thou a master of Israel, and knowest not these things? Verily, verily, I say unto thee, We speak that we do know, and testify that we have seen; and ye receive not our witness, John 3:10-11.
Isaiah, the prophet, foretold of the coming Messiah, His birth (Is 9:6), His anointing (Is 11:1-5), His miracles (Is 35:3-8) and additional prophetic utterances.
In spite of these proclamations, Nicodemus did not 'see' the connection even though he said: Rabbi, we know that thou art a teacher come from God: for no man can do these miracles that thou doest, except God be with him, John 3:2.
Similarly, Christians, who inasmuch as they've read the Bible, have no insight into how the Bible is to be used. An answer to such limitations is supplied through the positive outcome revelation: Be ye transformed by the renewing of your mind, that ye may prove what is that good, and acceptable, and perfect, will of God, Romans 12:2.
Positive Outcomes in the New Testament

Two aspects of all burdens should be considered:
All people, as long as they live, will have to deal with issues (Jn 16:33).
Only by the New Birth (Jn 3:3) is it possible to oppose and gain release from all distressing difficulties.
The New Birth, as Jesus revealed it to Nicodemus, is inspired by the Holy Spirit. It is He who leads those newly born-again to the fullness of the truth: Howbeit when he, the Spirit of truth, is come, he will guide you into all truth, John 16:13.
At Pentecost, the Holy Spirit came as teacher and comforter (Jn 15:26) as well as a trainer to accomplish the works which Jesus had done (Jn 14:12). To those who had believed on Him, Jesus said: If ye continue in my word, then are ye my disciples indeed;  And ye shall know the truth, and the truth shall make you free, John 8:31-32.
Valuing the insight gained into the New Testament scriptures, and applying it to life situations, takes time. Various oppositions will try to discredit those truths, including personal unbelief, doubt, indecision, and Satan's contradictions, as in Jesus' temptations (Mt 4:3-11).
It Stands Written for Our Encouragement

The words of Scripture are no idle words: For whatsoever things were written aforetime were written for our learning, that we through patience and comfort of the scriptures might have hope, Romans 15:4.
At the time of the 40-year desert wandering, Moses sent 12 spies into the Promised Land. All 12 saw how rich and good the land was. However, ten of them saw the gigantic inhabitants and were intimidated. The other two saw exactly the same thing but were positive-outcome convinced, that this land can be taken. After all, God had promised it to them: And I have said, I will bring you up out of the affliction of Egypt ... unto a land flowing with milk and honey, Exodus 3:17.
Whose words were to be trusted? Those of the unbelieving multitude or God's promises, His watched-over words? People forget too easily.
For that reason, God had Isaiah proclaim again: So shall my word be that goeth forth out of my mouth: it shall not return unto me void, but it shall accomplish that which I please, and it shall prosper in the thing whereto I sent it, Isaiah 55:11.
Approximately 750 additional years passed until the death and resurrection of Jesus Christ brought grace through the coming of the Holy Spirit at Pentecost and ushered in the 'being born-again' revelation.
Insight into Understanding Positive Outcomes

All difficulties, disappointments, and sicknesses are daily hindrances. They resemble the giants whom the ten spies saw in the Promised Land as intimidation, discouragement, and inability to overcome them.
Inaction allows that to happen: For as he thinketh in his heart, so is he, Proverbs 23:7. That mindset contradicts God's demand to take action and slanders His promises.
Jesus made it known already before His crucifixion: Behold, I give unto you power ... over all the power of the enemy: and nothing shall by any means hurt you, Luke 10:19.
That empowerment came with the arrival of the Holy Ghost at Pentecost and remains available to every 'born-again' believer, until this day: But the Comforter, which is the Holy Ghost, whom the Father will send in my name, he shall teach you all things, and bring all things to your remembrance, whatsoever I have said unto you, John 14:26.
Reluctance to put God's plan into action, brings no results: For let not that man think that he shall receive any thing of the Lord. A double minded man is unstable in all his ways, James 1:7-8.
God's Encouragement as the Source of Determination

God searches for those who neither retract, alter, nor doubt His Word. They are those who are filled with a positive outcome conviction, by that which is written.
Enemy attacks are to be overcome – that is mandated (Luke 10:19). Every goal is to be achieved!
Holy Ghost empowerment is God's help in order to achieve victory over all difficulties, disappointments, and sicknesses, by faith, since God hath dealt to every man the measure of faith, Romans 12:3.
At the Cross, Jesus in agony uttered, It is finished, John 19:30. It is these words that determine our overcoming victory over all of Satan's might. Are we to restrain ourselves from achieving such precedented outcomes?
We were not endowed with needless grace: receive not the grace of God in vain, 2.Corinthians 6:1. What God freely offered to our advantage is to be valued and preferred.
What God commanded Joshua, remains relevant for us as well: This book of the law shall not depart out of thy mouth; thou shalt meditate therein day and night, that thou mayest observe to do according to all that is written therein: for then thou shalt make thy way prosperous, and then thou shalt have good success, Joshua 1:8 [Bolded for emphasis].
When Holy Spirit conviction comes alive within us, the power of darkness no longer holds any further influence over us, as in the temptation of Jesus (Mt 4:11).
God cannot improve on His best for us. As born-again believers, reconciled through Jesus Christ, and empowered with the Holy Spirit, we're equipped to accomplish every good work as representatives of God's kingdom.
Are we startled by Satan's roaring (1Pet 5:8)?
Perhaps… but why?
Only if we're spiritually underdeveloped or have forgotten what Jesus assigned to us as overcoming power and authority over all of Satan's uprisings and temptations: Behold, I give unto you power to tread on serpents and scorpions, and over all the power of the enemy: and nothing shall by any means hurt you, Luke 10:19.
Aim for the Positive Outcomes

Remember, we are administrators of God's grace and goodness. We have His assigned power of attorney!
We are endued with the responsibility of carrying out the commands of our LORD! We are to value our redemption from Satan's power and react accordingly!
Carrying out the works of Christ is not a difficult assignment for the born-again believer.
Christ's death was cruel, and our once hopeless old life likewise, yet His resurrection was glorious. 
We, similarly, in our redeemed life, are now filled with hope and faith. We are equipped to overcome all of Satan's trials and temptations.
Christ's death on Good Friday, His resurrection at Easter, and the Coming of the Holy Spirit at Pentecost are times of remembrance for us.
God alone safeguards His redeemed from straying off the path of righteousness. Now, freed from sin and filled with joy, we're permitted to approach and greet our heavenly Father: Now unto him that is able to keep you from falling, and to present you faultless before the presence of his glory with exceeding joy, To the only wise God our Saviour, be glory and majesty, dominion and power, both now and ever. Amen, Jude 1:24-25.
Aim for positive outcomes. Let joy and enthusiasm guide your daily life, just as Jesus rejoiced in the Holy Spirit (Lk 10:21). Overcome all weaknesses, all hopelessness, all disappointments, and all burdens by honoring and trusting God the Father, God the Son, and God the Holy Spirit.
Radiate your redemption by grace in the way you speak, how you perceive and react to situations, in Christ's likeness. Why? For by grace are ye saved through faith; and that not of yourselves: it is the gift of God: Not of works, lest any man should boast, Ephesians 2:8-9, since all things are possible to him who believes, Mark 9:23.
---
---
Go ye therefore, and teach all nations, baptizing them in the name of the Father, and of the Son, and of the Holy Ghost: Teaching them to observe all things whatsoever I have commanded you: and, lo, I am with you alway, even unto the end of the world. Amen.
Matthew 28:19-20
Unless stated otherwise, all Bible passages quoted in blue are from the KJV translation.